An Energy-Workers' Guide To Real Vampirism
An Energy-Workers' Guide To Real Vampirism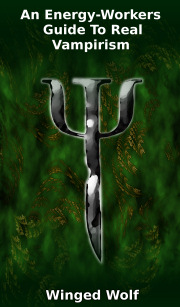 An in-depth exploration of real vampirism for persons who have a background in metaphysics, energy-working, magick, psionics, paganism, and other esoteric paths. Includes information on psychically identifying vampires, cures (and the problems with them), donating to vampires, and defense against vampiric attacks.
This book will soon be available on our website in pdf, mobi, and epub formats.
It is currently available from the following vendors:
Lulu.com (pdf and paperback formats)
Amazon.com (mobi format, discounted price)
Buy Direct from the Author!